Would you like to get to know a versatile cheese? The cheese we are going to introduce you to is a cheese that you can use to gratin quiches, enjoy in a "Croque-monsieur", use when preparing a fondue or simply eat it raw with a good baguette bread. Besides the fact that it can be eaten in several ways, thanks to its different ageing times, eating it will be a unique experience every time you taste it. In this article we will be telling you about Comté PDO cheese, according to " L'institut national de l'origine et de la qualité"…
Comté PDO cheese is a cooked pressed cheese. Its paste is firm and ivory to yellow in color; in the case of more mature cheeses, it may contain tyrosine crystals (an amino acid). Comté PDO cheese contains between 45 and 54 grams (1,6 and 1,9 ounces) of fatty matter per 100 grams (3,53 ounces) of cheese in dry extracts. It is produced in cheese wheels weighing between 32 and 45 kilograms (70,55 and 99,2 pounds) with a diameter of 55 to 75 centimeters (21,65 to 29,53 inches) and a heel of 8 to 13 centimeters (3,15 to 5,12 inches), with a solid yellow to brown rind. Around 400 liters of milk are needed to produce one wheel of cheese. 
In France it is one of the most famous cheeses. Many cheeses have a more standardized taste due to their own production methods. But in the case of Comté PDO cheese, the simple fact that it is made in "Fruitières", as we will see later, makes it a cheese that will vary in notes and aromas each time. 
Where does Comté cheese come from?
Comté cheese was developed and continues to be made in the Jura massif. In the north-east of France, bordering Switzerland and Germany, in the Doubs, Jura, Saône-et-Loire and Territoire de Belfort departments of the Bourgogne-Franche-Comté region, and the Ain and Haute Savoie departments of the Auvergne-Rhône-Alpes region. This mountain range was formed during the Jurassic period. It has mountains ranging from 500 to 1720 meters (1640,42 to 5643,05 feet) high at its highest point. 
According to historical records, a cheese from the region was already appreciated in Rome at the time of the Roman Empire. Centuries later, since the Middle Ages, a cheese was already being made in the Jura massif where the producers of Comté PDO cheese were organized through a cooperative manufacturing methodology called "fruitières", a name that comes from the Latin meaning place where the fruits of labor are yielded, as cheese is the fruit of milk. This type of cooperative was devised by farmers in medieval times because the climate in the mountains was so harsh, they looked for ways to store the milk collected during spring and summer and thus be able to have food during winter, which is why they made large cheeses, meaning that for the manufacture of each wheel of cheese a large quantity of milk was needed, a quantity that could only be achieved through the union of all. 
In the 19th century, called "Gruyère de Comté" because of its mutually influenced origins, Comté PDO cheese sought to differentiate itself and identify its specific origin. You can read more about the history of the cheese on the official website comté.com.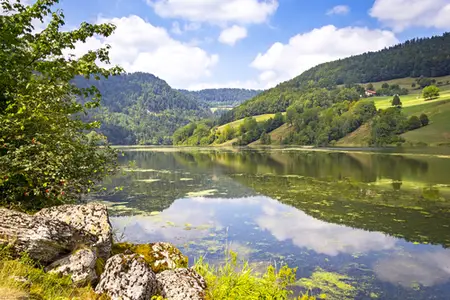 What is Comté cheese made of?
100% raw milk from French Montbéliarde or Simmental cows. 
Like many French cheeses, these cows can only be fed on fresh grass during spring and summer, during autumn and winter when the temperature does not allow it, the cows are fed on fodder. 
In addition to the breed and type of feed, in the case of Comté PDO cheese, geography is key to the result of the cheese, therefore, the grass and fodder must come from the geographical area of appellation, so that the final quality of the product can be assured. 
In addition to this, the manufacturing instructions determine the conditions for fertilization, cleaning, storage, transport, etc. An important point worth mentioning is that at least one hectare of grass per cow must be available for feeding and transgenic or fermented products are strictly forbidden.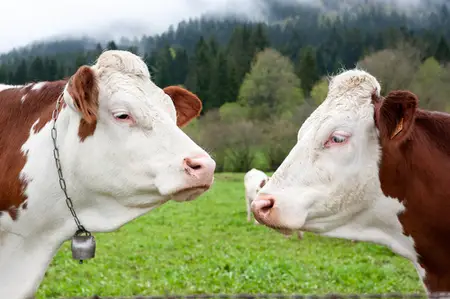 Is the milk of Comté cheese pasteurized? 
The milk used to make Comté PDO cheese must not be pasteurised. However, there is a boiling stage during the production process. 
It should be noted that the French dairy industry has developed methods of control and verification throughout the manufacturing process to ensure that it is not contaminated by pathogens that could endanger the population. In the article "How do the French eat Comté cheese" you can read more about it.
Is there artisanal or only industrial Comté cheese?
Comté PDO cheese is produced in an artisanal way. 
The "frutières" are the only ones authorized to produce cheese and can only make cheese from milk collected from farms within a maximum of 25 km (15.5 miles). As a result, the "frutières" are limited in their production, and of all the farms that produce milk for Comté PDO cheese, none can produce their own cheese. 
How is Comté cheese made?
Comté DOP cheese has a process in accordance with cooked pressed cheeses. It is currently made by 140 "frutières", who, as already mentioned, collect the milk from 25 km (15.5 miles) around. Once collected, the liters of milk are heated to 31°C and curdled using a mixture of rennet and lactic bacteria culture. After the milk is curdled, the rennet is cut into specific portions to facilitate the removal of whey and heated to a temperature of between 50 and 58 degrees Celsius (122 and 136,4 degrees Fahrenheit). After most of the whey has been removed, the cheese is moulded into cheese wheels and pressed for about 6 hours with a force of about 100 kg (220 pounds). At the end of this time, the cheese wheels proceed to their final stage before ripening, which consists of salting. Once in the ripening room, the cheeses continue to be washed, rubbed, and turned, to develop the characteristic protective layer of Comté cheese DOP. 
How long is Comté cheese AOP matured?
Comté PDO cheese must be matured for at least 4 months, reaching a maximum of 24 months on spruce boards. The most common is 8 to 10 months. 
You will probably think that 4 months makes a big difference with 24 months to be considered the same cheese, according to connoisseurs the four months allow to obtain the minimum characteristics to be considered Comté DOP cheese. From there the differences of ageing will bring variations of color and flavor notes, giving more milky notes in the young cheeses and fruity aromas, among others, in the more mature cheeses.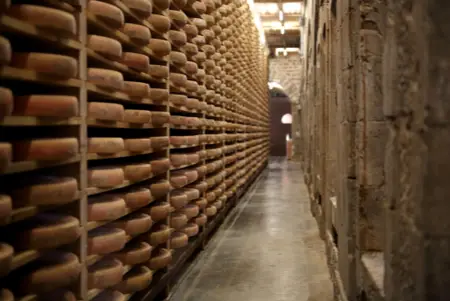 How many kilograms of Comté cheese are produced per year? 
In 2020, up to 68 312 tonnes of Comté PDO cheese were produced, of which, according to comte.com, around 59 735 tonnes were sold in 2020. Of these, 5 964 tonnes were for the export market, mainly to Belgium 26%, Germany 21%, UK 14%, U.S.A. 10%, Spain 4%, Japan 1% and the rest of the world 24%.
Since when has Comté cheese been a protected geographical indication?
Comté PDO cheese, obtained the label "Appelation d'origine controlé, AOC" in 1958 which as we have indicated in other articles was a local French label, and in 1996 it obtained the European label "Appelation d'origine protégée, AOP". If you want to know what these labels are, you can read the article "France is a cheese- producing country par excellence"where we explain it to you.
Well, I already went to buy Comté PDO cheese from my local cheesemonger to make a quiche tonight. What are you going to cook with yours?
Bon Appétite!