France being the country of cheese par excellence, there is a whole etiquette on how to eat each of the 1200 different cheeses produced by the hexagon. With this article I want to tell you how the French serve and taste Camembert cheese and that it doesn't happen to you like my foreign friend when he visited us at home and sliced the cheese as if it were steak. Oh mon Dieu !
First, what is Camembert cheese? For those who don't know, you can read all about what Camembert cheese is at this link. But a little description is as follows:
Camembert cheese is the most famous cheese in France. It is a soft, unctuous, and creamy cheese with a thin and slightly wrinkled white rind. We can find notes of milk or stable and undergrowth depending on the producer. It has a cylindrical shape of 3 centimeters thick and has a diameter of 10.5 to 11.5 centimeters. It weighs at least 250 grams and has approximately 22% fat.
Now that we know what Camembert cheese is, we will explain how to enjoy it. In the end we believe that things are eaten or taken as one likes, but sometimes you must have certain etiquette especially when we are in someone else's house, or you have guests at yours.
How is Camembert cheese served? 
Like many foods, Camembert cheese is not eaten right out of the refrigerator, we recommend taking it out of the refrigerator and letting it come to room temperature for a few minutes. Then, in the case of Camembert cheese, the French cut it like a round cake, i.e., from the center of the cheese to the outside in triangular portions. This allows each portion of cheese to contain part of the very soft center which is the "heart" of the Camembert cheese and contain each of the remaining parts of the core. In this way you will be able to fully savor its flavors and smells – a real pleasure!
To cut Camembert cheese, you can use any traditional, flat knife, but I recommend using a knife intended for cutting cheese, these are small ones that at first glance are a little strange as they have holes in the blade that allow you to reduce the amount of knife surface in contact with the cheese and thus reduce the adherence. In addition, many of these knives have a small fork at the tip so that you can pick up the cheese and serve it to your guests.
Once your portion is served, you can serve it on your plate as you wish.
Is Camembert cheese eaten raw?
Camembert cheese is eaten raw. It is not necessary to cook it, although you can do it if you would like. We will leave for another article, recipes for cooked Camembert cheese.
While it is true that the French usually eat Camembert cheese raw with a piece of bread, purists in the Normandie region recommend eating the cheese on its own.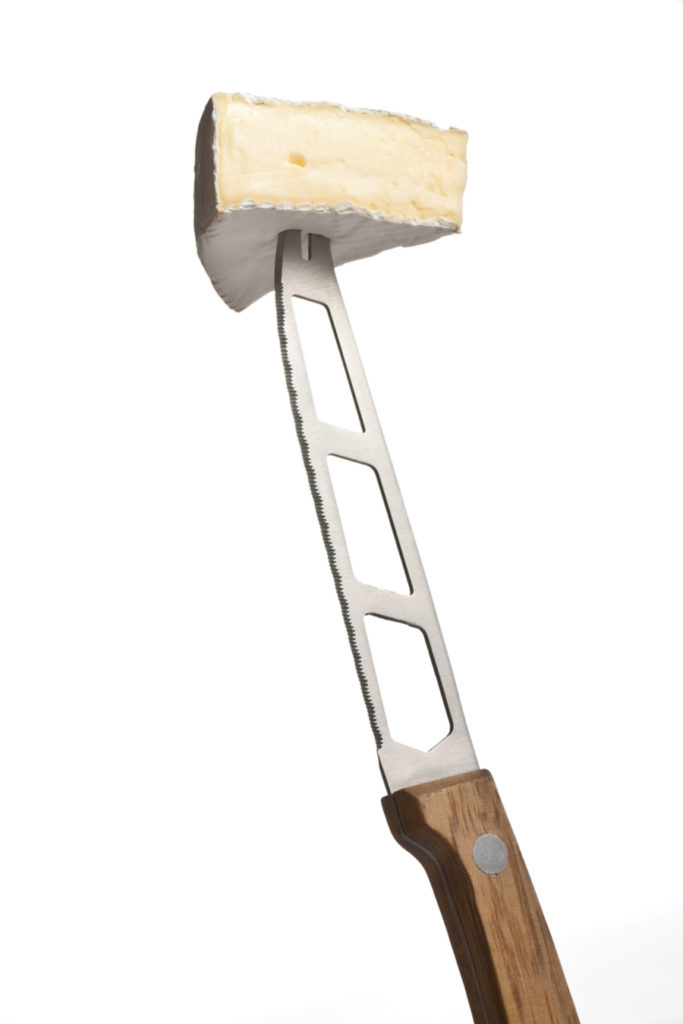 But let's be honest, most of us would like to accompany it with a good wine and a piece of bread. All you must do is cut it as above and you can enjoy it with your favorite drink and accompaniment. 
What to pair Camembert cheese with?
Locals in Normandie recommend that Camembert cheese be paired with local products such as cider, apple juice, dried fruits, and even green tea. Purists would say that it is eaten only with a good piece of bread. 
But if you want to experiment with something else, according to experts you can accompany it with the following:
White wines : Sauternes, Chardonnay, Meursault.
Red wines : Château Neuf du Pape, Pinot noir d'Alsace, Chinon, Beaujolais, Saint-Estèphe, Côte du Rhône, Gamay, Gevrey-Chambertin, Gigondas
Spirits : Cidre Pays d'Auge AOC, Champagne, Pommeau de Normandie 
Breads: Pain Brioché, Pain de Campagne, Pain aux pommes confites et éclats de noix, baguette Tradition.
Is the rind of Camembert cheese eaten?
The white rind of Camembert is the fungus Penicillium candidum, which allows the cheese to mature for 21 days in the curing rooms and is responsible for giving the cheese its characteristic flavor and aroma. Therefore, it can be eaten. 
Now, of course, if you don't like it, you can always remove the portion from your plate. Did you know that Camembert cheese that is aged for more than 21 days can have reddish tones? This is because the Pénicillium candidum, during the aging stage, dies and gives way to Brevibacterium linens. Curious fact about the latter, it is a bacterium that abounds in human skin and is the cause of the cheese smell in the feet! 
Should the paper in which Camembert cheese is wrapped be kept?
If you think you are not going to consume the whole cheese in one meal. To preserve Camembert cheese, it is better to keep it in its original paper and box and do not forget to keep it in the refrigerator. 
 How to know if Camembert cheese is still good to eat?
Like all food products, to know if it is still in good condition is simply to observe, smell and taste the product, if we consider that it is still good, we can consume it without any problem. However, if we still do not know if it is still good, we can be guided by the expiration dates indicated on the packaging of the product and the conservation guides after opening as indicated on the label. 
In the case of Camembert cheese, if it has a hard texture to the touch, has mold and an unnatural strong odor in the cheese, it is a sign that it is not suitable for consumption and it is recommended to throw it away immediately. 
What is the ideal season to eat Camembert cheese?
The ideal season to taste Camembert cheese according to the French is between the months of May and October.
Although you can find Camembert cheese all year round. The months we indicate is because Camembert being a dairy product, its result depends on its main ingredient, milk, and this in turn is the result of what Normande cows consume. For natural reasons, the freshest grass is at its peak in spring, summer, and early autumn, as in winter the grass can become covered by ice, snow or just not get enough sun.  If you add the time it takes for the milk to be converted into Camembert cheese, it takes about 21 days, resulting in the dates shown below.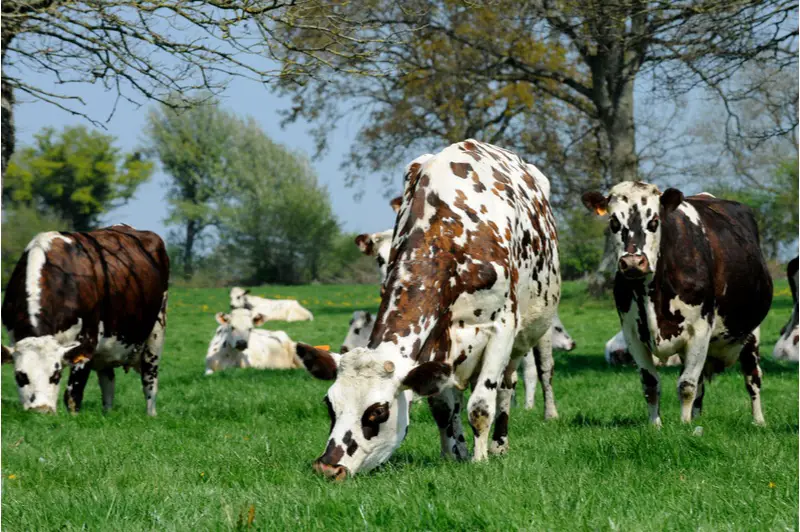 How much lactose is in Camembert cheese?
Like all dairy products, Camembert cheese has lactose, but in minimal amounts. As many other cheeses that are matured, it is also reduced in lactose during the ripening process.
Camembert cheese contains < 0.2 grams per 100 grams according to the "Association Française des intolérants au lactose".
Now that you know all about what Camembert cheese is and how to eat it, you just have to run to the supermarket or to the nearest cheesemonger and ask for a good French Camembert cheese. 
Bon appetit !